WHAT YOU NEED TO KNOW ABOUT OUR CONCERTS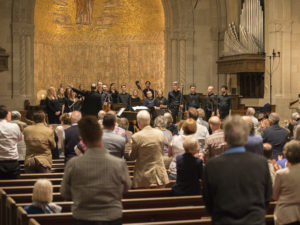 If you bought a ticket for a specific concert:
Your ticket is good for either performance.
You may only attend the concert printed on your ticket.
Online tickets for "A Whitman Sampler" and "Christmas with the Camerata" are no longer available.
If you are a season subscriber:
Your tickets are good for any concert, at any location, in any combination.
You may use all of your tickets at one concert, or spread them out over the season.
Season tickets are only good for the season printed on the ticket. We do not accept roll over tickets from one season to the next.
Other useful information:
Seating is not reserved. You may sit anywhere in the venue.
Doors for seating open 30 minutes before concert start time.
The box office opens one hour before start time.
At the box office, we accept payments with cash, Visa, MC or Discover.
Parking at all of our venues is free.
Performances last anywhere from 75 minutes to 90 minutes
Not all performances will have an intermission.
Q. How should I dress to attend one of your concerts?
A. Audience members at a Camerata concert dress in a variety of ways. Some people prefer to dress up a bit, some not so much. Find your comfort zone and dress accordingly!
Q. What if I have not heard of the music on a program I want to attend?
A. Have no fear! The Pittsburgh Camerata sings beautiful music. We provide a program book at each performance that lists all titles with composers and their birth dates. The program book also provides notes about the music and texts with translations.