WHAT YOU NEED TO KNOW ABOUT OUR CONCERTS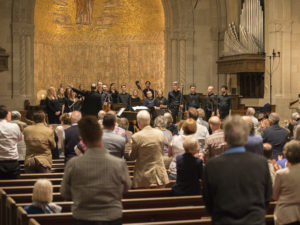 If you bought a ticket for a specific concert:
Your ticket is good for either performance.
You may only attend the concert printed on your ticket.
Online tickets for "Britain and Beyond" are no longer available for advance purchase. You may purchase tickets at the box office for $25.
If you are a season subscriber:
Your tickets are good for any concert, at any location, in any combination.
You may use all of your tickets at one concert, or spread them out over the season.
Season tickets are only good for the season printed on the ticket. We do not accept roll over tickets from one season to the next.
Other useful information:
Seating is not reserved. You may sit anywhere in the venue.
Doors for seating open 30 minutes before concert start time.
The box office opens one hour before start time.
At the box office, we accept payments with cash, Visa, MC or Discover.
Parking at all of our venues is free.
Performances last anywhere from 75 minutes to 90 minutes
Not all performances will have an intermission.