WHAT YOU NEED TO KNOW ABOUT OUR CONCERTS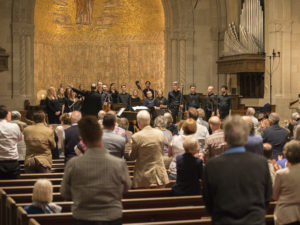 How you may attend concerts Season 2021-2022

This season we offer a mixture of in-person and virtual performances.
Visit the Event Page for more details.
Covid 19 Attendance Policy

Vaccinations for Covid 19 are expected but will not be verified.
Masking is recommended.
Camerata singers may or may not sing masked, depending on the venue requirements.
All our performances allow open seating. We will monitor attendance to make sure it is possible to seat physically distanced.
Virtual Performances Season 2021-2022

All virtual concerts will be posted on the Vimeo platform.
If you are a season subscriber:
When you purchased your subscriptions, you selected the concerts you want to attend.
We will mail you your tickets well in advance of the December concert.
Other useful information:
Seating is not reserved. You may sit anywhere in the venue.
Doors for seating open 30 minutes before concert start time.
The box office opens one hour before start time.
At the box office, we accept payments with cash, Visa, MC or Discover.
Parking at all of our venues is free.
Performances last anywhere from 75 minutes to 90 minutes
Not all performances will have an intermission.
Q. How should I dress to attend one of your concerts?
A. Audience members at a Camerata concert dress in a variety of ways. Some people prefer to dress up a bit, some not so much. Find your comfort zone and dress accordingly!
Q. What if I have not heard of the music on a program I want to attend?
A. Have no fear! The Pittsburgh Camerata sings beautiful music. We provide a program book at each performance that lists all titles with composers and their birth dates. The program book also provides notes about the music and texts with translations.